The California Lemon Law (officially known as the Song-Beverly Consumer Warranty act, found in California Civil Code sections 1793.22 et seq.) is a law designed to protect consumers who purchase or lease warranted cars, trucks, motorcycles and other motor-driven vehicles. If it is determined that the auto is a "lemon", the vehicle's warrantor must repurchase or replace the car, truck, motorcycle, etc. from the buyer. Generally, the California Lemon Law applies to vehicles in which the car dealerships have been unable to repair the car within the manufacturer's warranty period after being given a reasonable number of opportunities to do so.
It is vitally important to understand that automobile manufacturers would lead you to believe that you must:
1. Attend Arbitration on your lemon law matter. FALSE. California has no Arbitration requirement, and Arbitration is paid-for by the manufacturer, "loading" the deck against you. Any outcome of Arbitration can be used by the manufacturer against the consumer in later legal proceedings to defend their position.
2. That the California Lemon Law is limited to 18 months/18,000 miles. FALSE. Any new our used vehicle that is under a manufacturer's new or CPO (Certified Pre-Owned) used car factory warranty can be a candidate for California lemon law protection. Many vehicles now have "powertrain" and CPO warranties of up to 100,000 miles. These vehicles can easily qualify for California lemon law protection if their repair histories support.
3. Call or write to the automobile manufacturer regarding your vehicle problems. FALSE. There is no requirement in California under our lemon law statute requiring a consumer to alert the manufacturer by phone call, email, fax, or any other medium of communication. The manufacturer is keenly aware of your vehicle's repair history as they have computerized records of all warranty claims made by servicing dealers for each time your vehicle has been in for warranty repairs.
California Lemon Law Statute
California Civil Code Section 1793.22.

(a)This section shall be known and may be cited as the Tanner Consumer Protection Act.

(b) It shall be presumed that a reasonable number of attempts have been made to conform a new motor vehicle to the applicable express warranties if, within 18 months from delivery to the buyer or 18,000 miles on the odometer of the vehicle, whichever occurs first, one or more of the following occurs:
(1) The same nonconformity results in a condition that is likely to cause death or serious bodily injury if the vehicle is driven and the nonconformity has been subject to repair two or more times by the manufacturer or its agents, and the buyer or lessee has at least once directly notified the manufacturer of the need for the repair of the nonconformity.
(2) The same nonconformity has been subject to repair four or more times by the manufacturer or its agents and the buyer has at least once directly notified the manufacturer of the need for the repair of the nonconformity.
(3) The vehicle is out of service by reason of repair of non-conformities by the manufacturer or its agents for a cumulative total of more than 30 calendar days since delivery of the vehicle to the buyer. The 30-day limit shall be extended only if repairs cannot be performed due to conditions beyond the control of the manufacturer or its agents. The buyer shall be required to directly notify the manufacturer pursuant to paragraphs (1) and (2) only if the manufacturer has clearly and conspicuously disclosed to the buyer, with the warranty or the owner's manual, the provisions of this section and that of subdivision (d) of Section 1793.2, including the requirement that the buyer must notify the manufacturer directly pursuant to paragraphs (1) and (2). The notification, if required, shall be sent to the address, if any, specified clearly and conspicuously by the manufacturer in the warranty or owner's manual. This presumption shall be a rebuttable presumption affecting the burden of proof, and it may be asserted by the buyer in any civil action, including an action in small claims court, or other formal or informal proceeding.
Definitions.
A "vehicle repurchase" means that you get a refund of the monies your have expended to buy or lease the vehicle. Down-payment, monthly payments, license fees, rental car and towing expenses. Also your loan or lease will be paid off in-full by the manufacturer. The manufacturer will get a deduction under the California lemon law for some of your use of the vehicle, however, only for the use before the vehicle became a lemon (We will calculate that for you.)

A "vehicle replacement" It means that you receive the same vehicle you currently own/lease except that it will be a brand new one in the current model year. Your present loan (or lease) stays in place (subject to financial institution approval) and you simply continue to make the same loan (or lease) payment on the new vehicle as you did on the "lemon" vehicle. Your only expense (if any) is a payment for the use of your vehicle before it became a lemon.

"How do I know if I qualify?" "How do I know if I have a California lemon law case?" This is the most important part of your choice of lemon law lawyer firm. We know what makes up a California lemon law case against the automobile manufacturer by our experience in settling/winning thousands of lemon law cases over 32 years.
Do You Qualify?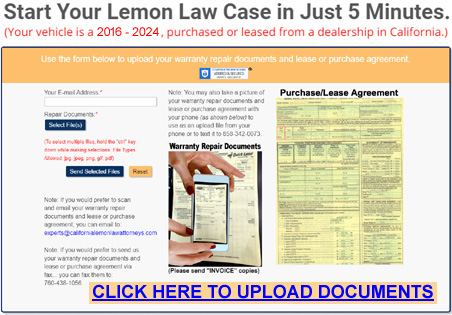 Would you like to know if you have a lemon law case? Need an answer quick? Call us right now at 1-800-CA-LEMON (1-800-225-3666). You won't have to wait days for an answer. You only have to provide us with the information we need by fax or e-mail today - and you will know if you have a pursuable case within 24 hours!

Would you like to have your potential lemon law case assessed on-line? Use the convenient "free on-line case review" link to the left of this text. We will respond back to you within 24 hours.

You will be pleased to know that under our California Lemon Law, the auto manufacturer is required to pay our billed attorney's fees and costs in your case. The attorney can also recover costs of the California lemon law case/claim.

"Do I have to go to court?" With our firm (as opposed to many other law firms), going to court is rarely required. Out of every 1,000 cases we settle without ever having to see a courtroom, less than 3 will require going to court to enforce our clients California lemon law rights. We go the mile – and beyond – to enforce our clients California lemon law rights.

"There are literally dozens of lemon law firms advertising on the internet, how do I choose the right one?"

Answer? - You utilize the legal services of the largest lemon law firm in the state of California – Us!

"How long does it take for the manufacturer to agree to settle the lemon law case?" Many of our California lemon law cases settle in just 7-10 days. The majority settle in 30-45 days. Some will require longer periods of time to convince the manufacturer (sometimes employing a lawsuit) to settle the case on the offending vehicle. In these instances our experience on seeing the case through is vitally important to you the consumer. No one wants their case to be "dropped" by their lawyer part-way through a case just because the filing of a lawsuit is required. We will see your case through to it's best conclusion.

"I may want to speak directly with the lemon law lawyer face-to-face. Can I do this?" "Can I get a free consultation?" Absolutely! Our firm has offices in key cities throughout California, and we meet clients to discuss their potential California lemon law case on an appointment basis. You may also choose to have us handle everything over the phone after we have reviewed your faxed-in (or e-mailed) documents, as thousands of our clients have over the past 32 years. The choice is always yours!

"I don't want to front any money, nor be responsible to pay attorney's fees if my case isn't won. How do you address this?" When you choose California's largest lemon law firm, there is no money up front, no up-front retainer checks written, no money due during the duration of your case, and no attorney's fees responsibility if we are unable to recover for you in your lemon law case. When you choose the largest lemon law firm in the state, you don't have to take risks.

Need more information about filing a California Lemon Law Case? Please "click" on the topics on the left side of this web page, or simply call us. Calling our law firm will introduce you to a level of personalized and professional service you will welcome. We know ending up with a lemon vehicle is both frustrating and time-consuming. It's time to have the lemon law experts step in.




Call 1-858-342-0073 or email the Lemon Law Auto Expert, Randy Sottile, about your vehicle problems/issues!

The Law Offices of William R. McGee
California's Largest Lemon Law FirmSM
San Francisco Office*. 225 Bush St. 16th. Floor. Su.1632. San Francisco, CA. 94104
Our Office Locations...

San Diego County Office (Main Offices)
16855 W. Bernardo Drive. Suite 380
San Diego, CA. 92127
1-800-CA-LEMON 1-800-225-3666

Los Angeles County (Glendale) Office
450 N. Brand Blvd. Suite 600
Glendale, CA. 91203
1-800-CA-LEMON 1-800-225-3666



Orange County (Irvine) Office
One Park Plaza. Suite 600
Irvine, CA. 92614
1-800-CA-LEMON 1-800-225-3666

San Francisco (Bay Area) Office
One Sansome Street, 35th Floor
San Francisco, CA 94104
1-800-CA-LEMON 1-800-225-3666